What to Wear to Play Paintball?
Paintball is something that can be so much fun, and many people love to get together with their friends to play as much as they can. If you're new to the idea of playing paintball, then you might not be sure what you should be wearing to play the game. Keep reading to go through all of the recommended clothing and gear choices for playing paintball. This will ensure that you have the best and safest experience while you're playing paintball with some of your closest friends.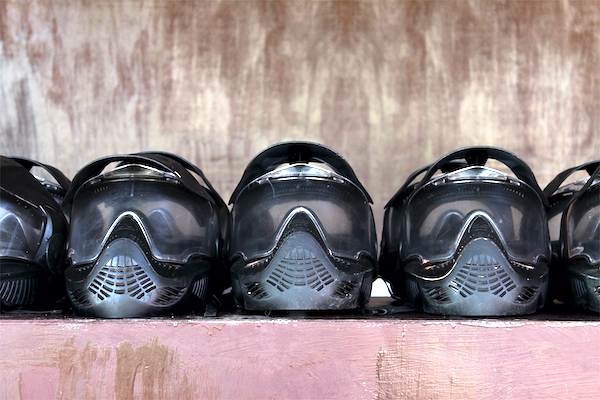 Protective Paintball Mask
Perhaps the most important thing to wear during a paintball game is a protective paintball mask. You absolutely must protect your face and your eyes during the game. If you aren't wearing a protective face mask, then you shouldn't be playing paintball. No one wants to get injured during a paintball game, and you can do your part to keep things fun for everybody by wearing your paintball mask.
Gloves
Gloves are another necessary part of your paintball gear that you must not forget about. It isn't too uncommon for people to get shot in the hands during these paintball games. If you forget to wear your gloves, then that's going to hurt a bit more than usual. Be smart and choose to wear gloves while you're playing paintball.
A Long-Sleeved T-Shirt and Long Pants
Covering your body is crucial when you're playing paintball because you don't want to get shot where your skin is exposed. Ideally, you're going to want to wear a long-sleeved t-shirt of some kind as well as long pants. This is going to make it so that you can have enough protection during the game. It should very much limit the chances for you to get shot somewhere that will sting more than usual. When you're picking out your pants, know that most people choose to wear jeans or something like that. If you pick pants that are too thin, then you're really going to feel the sting when you get shot in your legs. Denim does a good job of softening the blow due to how thick it is. It's likely a good idea to stick with jeans or some type of hunting pants that you own.
Most People Pick Dark Colors or Camouflage
You don't want to wear colors that are going to make you stick out too much while you're playing paintball. The point of paintball is to try to hide and ambush the opponent when you can. This is why most people choose to wear dark colors, and some even go so far as to pick camouflage colors. Paintball certainly has a military vibe already, which makes it fitting to wear camouflage gear.
Some regular paintball players like to buy camouflage gear that will match with their teams, too. You could coordinate your paintball gear with your team if you think that it would be fun to do that. Of course, it's possible that not everyone on your squad will be that committed. Just worry about choosing colors that seem appropriate for a good competitive paintball game and then go from there.
Remember That You Need to Be Able to Move
Being able to move around is one of the most important aspects of doing well in a paintball game. If you can't move your body well, then you're going to get shot with paintballs pretty easily. You have to be agile and know how to dodge if you're going to do well in a game like this. Wearing pants that are too restrictive would make it harder for you to run or get into certain positions.
Try to pick out clothes that are easy enough for you to maneuver in. You should be able to find long pants that will provide you with protection while also being flexible enough for you. It might even be wise to take some time to try out various pairs of jeans to see which ones feel comfortable while running or lightly jogging. Making a good choice here is going to help you to have a better time with the game.
Understand That Your Clothes Are Going to Get Dirty
Understanding that your clothes are going to get dirty will help you to refine your clothing choices. You're going to want to pick clothes that you will feel comfortable in, but you also want to use clothes that you won't get upset about ruining. Playing paintball won't cause these clothes to become unusable, but it will likely be hard to get your clothes completely clean if you take a bunch of paintball shots to the chest. Your clothes will likely be filthy from running around, sweating, rubbing up against the dirty ground, and more.
Don't choose to wear clothes that you want to keep in pristine condition. Your favorite long-sleeved t-shirt might not be the ideal choice for going to play paintball. It's best to pick clothes that you are going to designate as paintball clothes from this point forward. This is especially true if you're going to get really into the game and try to play it regularly with your friends.
Choose Your Footwear Wisely
Your footwear choice is going to be very important since you're going to be moving around so much. People have different opinions and preferences when it comes to choosing footwear for a paintball game. Some people choose to use athletic sneakers such as basketball shoes because they give you good support while also being easy to run in. Others like the greater support of combat boots, and it does add to the overall military aesthetic that you might be trying to achieve. So long as you pick one of the preferred options, you should be good to go. The only thing to keep in mind is that it's very possible that your shoes could get paint on them. Some types of basketball shoes can be very fashionable and expensive. Ruining a pair of expensive athletic sneakers might not be ideal, and you're going to want to choose footwear that you aren't worried about getting dirty or messed up during the game.
Bring Clothes to Change Into Before Going Home
Finally, it should come as no surprise to hear that you won't want to wear clothes that are covered in various types of paint while driving back home in your car. This is why you have to remember to bring yourself some clothes to change into before you leave. Be mindful of this and try to bring spare clothes in some type of backpack or plastic bag. Keep the clothes that you plan to change into in your car or somewhere else that will be safe while you're playing the game.
Having to try to get paint out of your car upholstery would really grind your gears, so it makes sense to change your clothes. It can also feel nice to change into something comfortable after spending so much time moving around and sweating during the game. As long as you remember to bring your change of clothes, you won't have to worry about harming your car. You'll likely want to keep your designated paintball clothes in a plastic bag or something on the way home, too.